I ordered a new headlight for my bike. The UPS man dropped it off today. I got it all mounted up and took it out for a short ride after the sun went down.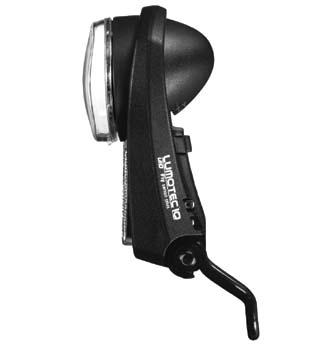 My old headlight was a Shimano LP-R6000, so that's all I have to compare it with.
The bottom line is that Lumotec is dramatically better in almost every way. It's brighter. Way brighter. It lights up the whole road, even at ridiculously low speeds. When I got off to push up a hill, it was still nice and bright.
The Shimano light is pretty much worthless when you go too slow, and if you have to push up a hill in the dark, you're SOL.
The Lumotec also has a capacitor that keeps the light running even when you stop. I stopped along the river to fart around and listen to the geese, and it stayed lit for 5 minutes. I don't know how much longer it would have stayed on. The geese weren't that interesting, so I left.
The Shimano light just turns off when you stop pedaling. That sucks when you come to a stoplight.
The only thing I don't like about the Lumotec is the mounting bracket that comes with it pretty much has to be mounted on the fork crown, and I had to improvise some shims to get it installed.
The Lumotec is pretty expensive, too, but I think it's worth it if you're like me, and like to ride slowly and have to get off to push on the hills.