When we last saw our heroes, they had just arrived at an Appalachian Trail shelter, and were preparing to spend the night with a possibly dangerous maniac.

"I told the VA to go fuck themselves!" he said. My companions and I exchanged worried glances. Perhaps we should just move along, and pitch our tarps a little bit farther down the trail.
Nobody wanted to be a girly-man, and so nobody said anything. When the strange man finished his tirade against the government, he asked us what day it was, and how long we had been hiking. We told him that we had only started hiking this morning. He said that he had been on the trail for about two months.
As we boiled our instant dinners, John (our new eccentric friend) told us that he had thru-hiked the entire AT twice before, and done a sizeable portion of the PCT as well. We had rather less heroic feats to boast of.
Conversation turned to food, the weather, and camping gear; interspersed with incoherent rants about the government and the military-industrial complex.
I found it somewhat unsettling that this man, whose views were extreme to the point of madness, had political opinions not very different from my own.
It started to drizzle after dinner, and so we all went to bed around 8:00.
The snoring in the shelter was unbelievable. After a few hours of tossing and turning, I took my bivy and marched some distance away to try to get some sleep.
Day broke shortly thereafter. We ate our breakfast, topped off our water bottles, and bid adieu to our new friend. He was nice enough to get a group photo of our trio.
The skies were gloomy, and it began to drizzle as we climbed Second Mountain. A V of some sort of white geese or swans flew overhead.
As we neared the Swatara Gap, the trail opened up, and so did the skies.
Without trees for cover, we started to get wet. I considered donning my rain gear, but ultimately decided against it. Without it, I would be cold, wet, and miserable. With it, I would be hot, sweaty, wet, and miserable.
Klinutus avoided this conundrum by deploying an umbrella. This looked highly ridiculous, but actually seemed to work pretty well.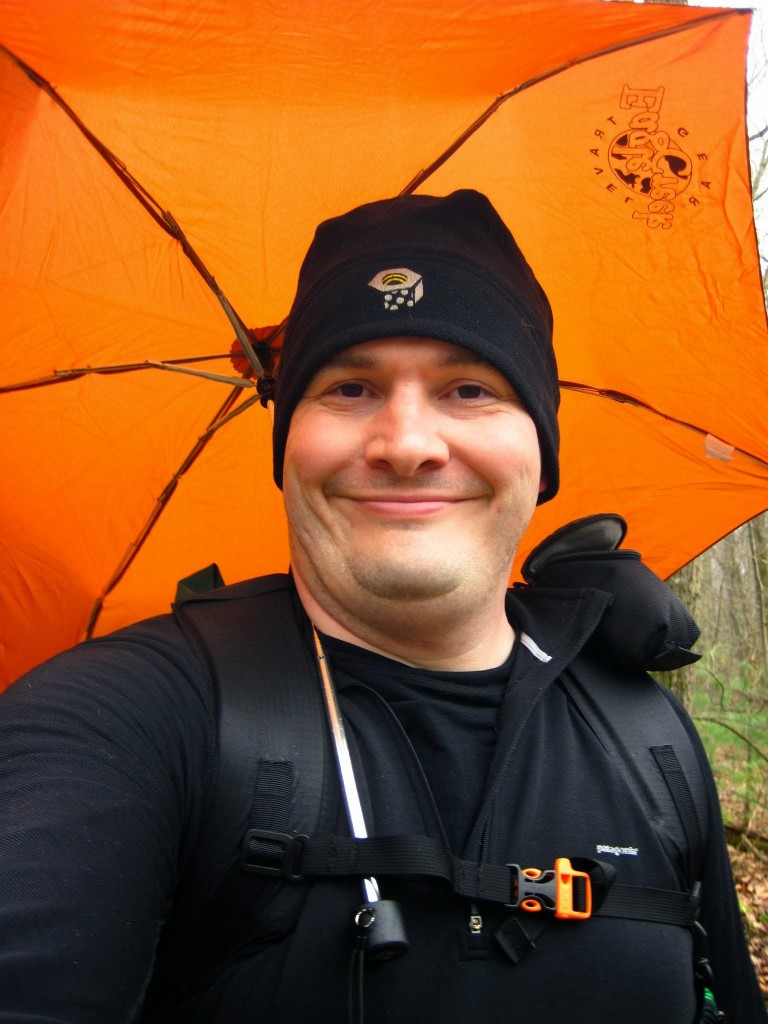 We walked the last few miles down the Swatara Rail Trail into Lickdale, where we feasted on Wendy's Cheeseburgers and waited for our ride.
Here is the map of our adventure.
Here are some more pictures from day 2.